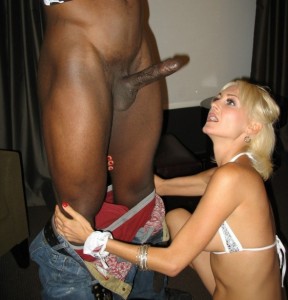 My name is Derrick and I got my first introduction to "upper middle  class white pussy" while in college. I went to a SEC school on  football scholarship. I came from poor rural area and college was an  adjustment at first. I felt inferior for the most part around other  students who I perceived had "money". I finally adjusted in my  sophomore year but I did discover how many white girls secretly  fantasize about the taboo of having a black man.
I was attending a sorority party hosted by a few of the cheerleaders  who were members of that sorority. They had invited many of the  football players and a few frat guys. It was one of the older  sororities on Campus and mainly upper middle class southern white  girls  "The Southern Belle Types".
When I got there I did notice there  were not many other black players there. I guess I got invited because  I was friends with the team quarterback and he dated one of the  cheerleaders. I felt a little uncomfortable sort of like the token  black guy. The party was pretty tame compared to some of the frat  parties I had gone to but I stayed because I had been taken a business  class that stressed the importance of networking. I figured what  better  networking could you do then a bunch of rich white girls who's  daddy's probably owned companies.
I was off in corner drinking a beer for quite awhile by myself when  one  of the sorority sisters named Megan came up and introduced herself.  She  said she noticed I was off all alone and thought it would be rude of  the sorority not to be friendly to all the guests. She was a cute  little sexy brunette with that pleasant southern accent. We stayed in  the corner for quite a while talking only stopping to get refills for  our drinks. Megan was drinking some fruity drink with rum in it.
Well  I  learned more about Megan then I ever wanted to know. As the alcohol  flowed into her so did her lips flow outwardly. She was from Atlanta  and her family owned an old southern company that made paper products.  Her mother was a member of this sorority and it was important that she  became a member and do well. She wanted to uphold the family  reputation.
I finished my third beer and was getting bored with her as she was a  little tipsy. Though I must admit she did look good. She had on a  school girl outfit for the football party theme I was getting ready to  leave. I finally told her I had to go, she begged me to stay but I  told  her I had an early exam and left. I went out the door and was walking  down the sidewalk when I heard someone calling my name. I looked back  and it was Megan. She came running up to me and surprisingly took my  hand and said she thought she would get some fresh air and wanted to  walk with me. We walked over to a bench near one of the classroom  halls  and sat down under a tree. Megan apologized to me and said her  sorority  sisters were a bunch of snobs.
We talked for awhile and she was different outside the sorority, she  had let her sorority persona down. She told me she had something to  confess to me. I said "Sure go ahead". She said she was attracted  to me but had to be careful around her sisters and she hoped I was  offended. Hell I was use to racism I grew up with it all my life. I  should have walked away but she was so fucking cute and a chance to  get  some of her pussy one day lingered in the back of my mind. As we  talked  she got friendlier. She said she had always wanted to kiss a black  boy.  I just looked at her and said, "go ahead". She smiled and I pulled  her close to me and gave her a soul kiss so deep and long that I am  sure she remembers it to this day.
We made out on the bench kissing and necking and I slid my hand under  her school girl skirt and this slut was soaked. She started moaning as  I slid my fingers up and down her slit. She whispered in my ear, "Is  it true". I stopped and looked at her kind of odd and said, "Is  what true". In her best school girl voice she said, "You know, are  black guy's bigger then white guys". I grabbed her hand and placed  it on my hard cock in my pants and said "Have you had anything that  big"? She started rubbing it through my pants and I told her to take  it out and she said, "No, not here, someone might see us, come with  me". She grabbed my hand and led me into the building and said,  "There won't be many people around here at this time of night".  We got inside and she went over near a women's restroom door and  lifted her squirt us exposing her panties to me and said "Come on  in". I followed her in and she locked the door.
As soon as we were inside she was all over me and dropped to her knees  and took out my cock and started stroking it and licking it. To tell  the truth her aggressiveness caught me by surprise. I grabbed her by  the hair and told her to suck it; she just obeyed like a hot little  slut and began sucking my black cock like she had never had cock in  her  life. She kept trying to take it all in her mouth and even gagged  herself a few times and looked up at me and said "it's so big Derrick,  I want it"!
At that moment I discovered the taboo of "Black Men and White Women"  and it's never failed since. Once you get a white woman alone no  matter how upidity she seems, pay her a little attention and she taps  into the taboo and her curiosity gets the best of her. Megan got up on  the toilet and slid her panties down and spread her legs wide open for  me. She didn't even ask for a condom. I slid my big black cock inside  her eager little pussy and she let out a loud moan, what a little slut  she had become.
I started slamming her hard and this hot bitch just kept spreading her  legs and taking it while screaming, "Yes, Yes, Derrick, Fuck Me"! Man  was her pussy hot and tight. All I knew was that I stretching this  bitch out and the next guy would never feel her tight pussy again. It  felt so good and she came several times cock. Suddenly felt my balls  tightening up and I pulled out shooting my hot cum all over her pussy  and ass and she kept wanting it.
I rubbed it all over her hot little cunt and she kept pushing her hips  into it. What a transformation I thought to myself.
God she was nasty little whore as most white women are once you get  them alone. I don't know but for whatever reason they just feel freer  with a black man. She got up and cleaned off a little and kissed me  and  said, "Thanks" and started for the door. I picked up her panties and  started to hand them to her and she said", Keep them, I will be back  for more". Not only did I fuck her several times over the next few  years but I also got 2 of her other sorority sisters but Megan was the  best.