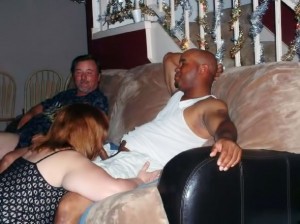 Ever since I found the Cuckold Place web site and started reading the stories and looking at the pictures I fantasized about my wife of 23 years cuckolding me with a BBC. I knew this was going to take some time, we hadn?t played with others in over two years and every time I brought up the subject of playing again she would talk about being a prim and proper wife and mother and not wanting to play anymore. Not only that, Tina was raised by some racial rednecks from southern Florida. Luckily she?s not like them; Tina is a very open minded woman and judges? people for their actions not by their color, so there was still a chance.
I knew it wouldn?t be easy; I started putting the idea in her head over a year ago. During our love making I began by whispering in her ear how I wanted to see her hot 5?4?, 132lb, 36,27,38 auburn hair, tan body take a big black cock and how I wanted to see him suck on her pierced nipples. With all my hot steamy sex talk I was spewing in her ear all I got was a ?Ya right!? After about 2 months of talking about BBC with her I ordered six hours of hot hard core interracial porn from our satellite company. As we were watching the movies I asked her to imagine that it was her taking that big black cock. She would turn her head and try not to watch but every now and then I would catch her watching this kept on for about an hour, till she was cumming on my little hard five inch penis.
I knew the thought of having a big black cock going deep into her pussy beyond my little dicks reach was getting to her. The thoughts of playing again were implanted in to Tina?s mind. Another thing that helped was her new job and her new friends.
Tina has become very close friends with about three black women and they all would talk about sex during their breaks. One particular friend, Maxine told her about using throat spray to numb her throat so she could take her husband?s huge cock deep into her throat. I know there was more said during their discussions but Tina didn?t tell me anymore details. My wife won?t tell Maxine but I want to say thanks to Maxine, I know all their sex talk and first hand stories is what really made Tina change her mind.
This November Tina took a big step in releasing her inner slut. For my birthday I asked her to get her pussy pierced this request has been turned down for over 3 years so when she agreed I knew something was changing and I offered her the chance to play again after she healed, this time she agreed. I started looking for guys with sizable cocks for her and changed our profile on the swinger?s site we use to reflect my preferences for her as BBCs.
I got three responses two white guys and one black guy. I e-mailed them all we might have an opportunity for a small gang bang if we could all meet at the same time, which picked everyone?s interest. I set up the meeting at a local hotel with a bar attached on the 26th of Dec.
We got a room around 5 pm and played around a little. I didn?t want her to cum just yet just wanted to get her motor purring. She was going good and modeled her sexy X-Mas gifts for me. Then she started getting ready to go to the bar putting on a sexy top, very short mini skirt, some thigh high stockings, and an very, very tiny see through mesh g-string. The panties I got her for her birthday, I was hoping she would wear them and show off her new piercing and her pussy when she was wearing her short skirts.
It was after she got dressed and was smoking a cigarette that I showed her the pictures of the black guy (Hans) that I invited. One picture of his face and one of his very impressive cock, I told her that I had invited him to join us tonight and she didn?t even bat an eye. Then I told her I also invited two other white guys and her jaw dropped to the floor ?Three guys are you crazy? she said in a very high voice! I told her not to worry, I was sure not all of them would show.
Boy was I right, we had been in the bar for over two hours waiting and NO ONE had shown up yet! This was bad, I was freaking out on the inside and couldn?t let her see that all my plans for tonight were ticking away. I knew Hans might be late but the others just didn?t show. I texted all of them and just as I had thought they would the two white guys flaked out and the only one that showed was Hans about 30 minutes later.
When I introduced Hans to Tina she was so nervous she downed her drink and ordered another one rather quickly, I think she was trying to get some liquid courage in her ASAP. Hans was great put us both at ease real quickly and was just easy to talk to. After about an hour I noticed that Tina was getting a comfortable with him, she had moved for 6 feet away to about a foot away from Hans. I leaned asked her if she was ready to go up stairs? All she said was ?I think so? I told her to go ahead and go to our room and we would join her shortly.
After she left, I was making small talk with Hans and told him Tina?s needed a few moments to herself before we went up. Trying to find something to talk about when we joined Tina upstairs, I started talking about her newest piercing. Being very proud that she did it I told him that she really likes for it to be played with after finishing our small talk and our drinks we went upstairs.
When we made it to the room Tina was sitting at the small table finishing smoking a cigarette, Hans sat on a chair next to her and I sat on the king size bed. We all started talking again, I made and served drinks to the soon to be lovers. When things started to stall the conversation was dyeing down it was getting a little uncomfortable and no one knowing what to do next that?s when I became my wife?s willing cuckold.
I asked Hans if he minded if I took pictures of tonight?s activities. He didn?t mind so I asked Tina to move over next to him. It was so funny the fist pictures I tool looked like a couples X-Mas card that they would send out to their friends. Not a wife about to break her weddings vows by fucking this black stud to multiple orgasms. I asked them to kiss for the camera; they started with some friendly kisses then after a few more pictures the French kissing started. That?s when I told Tina I had told Hans of her newest piercing and suggested that she show him. I had to get the ball rolling it was already after midnight.
Tina pulled up her short skirt up and showed him, Hans took the opportunity and pulled Tina?s damp panties aside with his thick dark black fingers to get a better look and feel. After about five minutes of her new lover playing with her clit and piercing, I stopped taking pictures and set my camera down moved forward and began removing Tina?s cloths. I said, ?we can get you a better view then that!? and started to remove Tina?s clothes, I was getting my wife ready for her newest lover and being a good cuckold I quickly stripped her and surrendered her to him!
I stepped back and grabbed my camera and began taking pictures again. Ten minutes later after, Hans fingered her pussy, squeezed, flicked her nipples; Hans removed his pants and was now completely necked. I quickly followed his lead and removed all my clothes thinking this would be a three some sometime later tonight. I recommended that we swap places and Hans quickly picked up his newest slut and carried her to the bed. He quickly began licking her dripping wet pussy, tonguing her hood piercing make her squirm all over the bed as she came. Hans made her climax another three times before he rolled over and laid on his back presenting his flaccid 6 ½ inch cock for her to bring to life orally.
This is what I was waiting for; I had my camera ready as she moved her upper body to give her access to suck her newest lover?s cock. I was standing very close to my wife for the close up picture. This would be the first time she ever had a Big Black Cock in her body! I was now nude standing close to them ready for the next picture when I saw Tina compare his soft cock to my hard one. I could see her smirk as she had noticed the same thing I did. His was bigger soft then I was hard. I didn?t care about the smirk this is what I wanted to have her be my BBC cuckoldress!
Just as fast as the smirk appeared it was gone, of course it might have had something to do with her trying to devour his cock slamming her face down on his cock. Faster and faster deeper and deeper she was now going to town on him, holding his growing 7?, 8?, 8.5? cock in her left hand it was so intense seeing her wedding ring, the symbol of our love and devotion gripping his cock! The pictures I took of that moment will remind me of my emerging cuckoldry.
After Tina?s sucking of his cock for a good 10 minutes the big black monster grew to 8.5? and as thick as a baby?s arm, covered with her saliva it was ready for her cunt! Hans pulled her into a 69 position. This allowed her to try and deep throat him. The chocking sound, puffed out cheeks, and the watering eyes was a sure sign the she had reached her limit of what look to be just over 7?. Hans was ready to take my wife?s pussy and turned her around resting his cock?s head right at the entrance and stopped, I think he remembered that I had mentioned to Him earlier that Tina?s womb was unprotected and fertile and he moved ever so slightly and reached for, opened, and rolled the condom on to his cock. I couldn?t believe it; the condom didn?t go all the way down to the base off his cock it stopped about an inch or two from the base.
With her baby maker now protected from his black seed, he let her place his beast at her hungry pussy. There she was, on top of him with her legs on either side of his thighs. In this position Hans knew she could slowly ease herself down onto his mammoth cock and stretching herself open at her own pace. I knew I had to step back, take photos, and just watch? this was her moment to take and use Hans?s tool as she needed to.
Then I heard the first of what would be many moans from my wife lips that night. She had gotten past the first 5? quickly and was still rocking back and forth. Hans looked cool just laying their like nothing was happening playing with her nipples flicking them and tugging on her nipple rings. He could fell her tight pussy starting to clamp down on his cock. With a big smile on his face he knew without even trying he had just giving her another orgasm and she still hadn?t hit the base of his cock. Back and forth, back and forth, slowly then in a flash she just let go moved her legs out of the way and forced her cunt down until her pussy was resting on his balls. That?s all he was waiting for and he started giving her pussy about 15 to 20 quick hard upward jabs.
The soft moans from her lips turned into loud grunts and opened mouth heavy breathing as she would keep repeating ?Oh My God, Oh Shit, Oh My God? over and over. I was standing right behind them now completely out of sight, taking in the glory of watching his black cock disappear into her creamy white pussy. There could have been a dozen guy around them right then I don?t think either would have noticed or cared.
With my camera in one hand and pre cum dripping from my very hard 5? cock in the other, I snapped picture after picture of her deep dicking. I couldn?t even count how many times she came in the 15 minutes in this position. Hans sat straight up and pulled and held Tina in a position to match his. He lifted her with his forearms and dropped her onto his cock over and over then he would wiggle his ass like a dog with worms on a carpet, whatever he did it didn?t matter he was making her cum again and again. Just giving her seconds to catch her breath then he would change positions again.
Hans let Tina lay back in between his legs, and then he grabbed her arms and pulled her on to his dick. It was impressive only seconds after they switched positions Hans continuing to find the spot in her that had never been touched before, every button she had he was hitting. One spot made Tina curl up grab him and moan into his mouth as she had to kiss him for sending this intense orgasm racing through her body. Tina again fell back trying to catch her breath, again repeating ?OH MY GOD, OH SHIT, OH MY GOD?. Hans had a devilish grin on his face, and we both knew what he was doing to her, he was changing her forever! My wife Tina was becoming a BBC Slut and I a willing cuckold.
Hans moved Tina from position to position for almost 2.5 hours. The sweat was rolling off his forehead into Tina?s face without a word. Drip it hits her cheek, drip it hit her in the eye, drip in her open mouth and not a word. Both their bodies were covered in sweat and glistening. Then I realized I was slacking in my duties as a cuckold, and I quickly went to the bathroom and grabbed a hand towel for this Bull! He actually took the time and thanked me before moving Tina into the final position in this fuck fest.
?Modified Missionary? with one leg straight up in the air and Hans positioned just right stance to sink his cock as deep as he could. With one final push he bottomed out against Tina?s womb they both finally came together and with one last ?OH MY FUCKING GOD, SHIT, OH YES? Tina felt his cock swell and empty into the only thing keeping her from black breed mother his now well used condom.
Hans jumped up removed the condom and headed to the bathroom to wash up. Tina laying on the bed fanning herself to cool down found it hard to belief what had just happened, but there she was dripping in sweet, her legs were shaking a sign her body gives off after getting fucked really hard and a huge smile. She knew they were fucking for a long time but over 2 ½ hours of hard core fucking. She looked at me and I had a kid in the candy store look on my face, all she could say was ?What?? I had to say it, I had to? ?I told you he would hit the spots I never could and that you wouldn?t be disappointed!? It was just about 3 am I had gotten them both towels, drinks and even got dressed and went to another floor to get some ice because their drinks weren?t cold enough. After about 15 more minutes I asked Tina to join me on the bed, she came over walking a little funny saying how sore she was. When she laid down I started to caress her body, kiss her lips, suckle her tits and lick her pussy. I was working her for about 5 minutes when I noticed our guest sitting watching us. I tugged on Tina to move over and asked Hans to join us again Tina reached down and started fondling both our cocks. I moved to her pussy and rolled her into a position to where she could suck Hans cock. I really didn?t have a good angle to eat Tina?s pussy so I spent most of my time watching them again.
It wasn?t long and I?ll be dammed if Hans BBC wasn?t ready for another round, his cock stood at full mast and I could see the wanting in Train?s eyes. This time I wanted to prove one more thing to her that having an uncovered BBC was too hard to resist and telling him to pull out wouldn?t be so easy! So I asked her ?Do you want to ride him bareback?? A strange look came over her face then she asked ?What?s that?? The room filled with laughter I asked her ?Do you want his cock without a condom on it.? All she said was ?Whatever? so I told her she would need to ask Hans if she could ride his cock bareback. With his cock just beyond her lips Tina turned her head and ask Hans in a very seductive tone ?Do want to fuck me bareback?? of course he said ?Yes!?
This time I wanted front row seats I was right next to her and I helped her stand up on the bed to get in the ?Cowgirl position? I was just about in between Hans legs as she lowered herself onto her black lovers raw cock, onto his uncovered Big Black Cock. Tina?s womb was unprotected from his black baby making batter. This was the biggest thrill of my fantasies!
I would whisper into her ear when we were making love that when she took her first black cock that she wouldn?t be able to stop and ask him to put on a condom after she started taking it raw and if he didn?t want to pull out she would have to take his cum in her pussy. Deep into her womb and she might get pregnant if she didn?t get on the pill soon!
Here she was, impaled on Hans unprotected cock lost in the moment, in the ecstasy of his cock mastery. What a sight I was smiling for ear to ear, I wanted to see her try to stop herself at that moment I wanted to see her pussy full of his cum and deal with the rest later.
After another 15 minutes I recommended the reverse Cowgirl so I could see her face and her pussy up close as she rode him. I couldn?t believe it every position he did earlier he was doing again! At one point I tried to help, Hans was standing at the corner of the bed with Tina?s legs resting on his chest and she was determined to watch this big beautiful pleasure giving cock as it disappeared into her. I positioned my body so her head could rest on me allowing her a clear view. At that time I started playing with her tits and tried to get her to suck my little chubby but she just couldn?t take her attention off Hans?s love muscle.
I knew I wasn?t needed in this mix she was being fuck by a master cocksman and I was just a rookie trying to get a little pleasure for myself. I quickly remembered my place as the cuckold and backed away from them.
It was now after five in the morning; Hans had started this fuck fest just after midnight and there still at it, all I was thinking holly shit! Hans was close to cumming again I could tell he had Tina in the ?Missionary position? again when he propped himself on his legs and really began driving it home. Tina was moaning so load I thought for sure I would get a call or a knock on the door form hotel management. The last big shriek for Tina was all it took and the sound of her orgasm had gotten to Hans, he was speeding up for his own moment of truth?would he pull it out or cover her womb with his black seed.
As Tina?s legs locked behind him, pulling him in Hans gave one last deep push there it was?Hans quickly clutched the base of his cock and pulled it out and came all shot after shot all over Tina?s stomach. Seven long streams of baby making batter now cover Trina and I could see the disappointment in her eyes of not feeling there fuck fest reach it climax in her.
What a site! My wife covered in her new black lovers cum, all I could think of was my cuckold responsibilities. I was ready and willing to clean her, I knew she was ready for me to use my tongue lick every drop of her Big Black Cock lover?s juices from her body when Hans still between her legs took his hand towel and begin to wipe her off. Both Tina?s eyes and mine met with a look of disappointment! Hans not knowing of our want just finished his cleaning and got up sat in an armchair.
Looking tired Hans started smoking a cigarette and was joined by Tina shortly after. All of us discussed the events of the night and how sore Tina was. I still reminded her I hadn?t had any release so far this night and I had a hard on for most of the five hours they were fucking. She finally gave in and agreed to give me some in a little bit. After about a fifteen minute break I asked Trina to join me in the bed, Hans was getting dressed very slowly. I wasn?t hard anymore my little dock was sore from all the wanking it had gone that night and it didn?t want to get hard again. I couldn?t believe it here I was with my wife right after she?d been fucked by her new lover and I couldn?t get it up! She made some jokes and the room filled with both Tina?s and Hans?s laughter. This was a new sensation ?Humiliation? and I liked it.
My wife was making fun of my little flaccid dick in front of her BBC lover and I liked it! I tried everything I eat her pussy, she suck my soft little pecker, I even tried to push the little sucker in her but you?re your only 1.75? soft there?s not a lot to try and push in? nothing was working! After five hours of wanking and leaking cum waiting for my turn all I could do was listen to our room full of laughter. But that?s what worked I was able to get a semi hard-on after about 15 minutes and thinking how my wife was belittling me in front of her new BULL. I was hard enough to get it in and start to show my wife what I could do!
That?s what I did I was going to start in the missionary position then maybe the cowgirl I would show them both what I could do with a 5? pecker? then 57 seconds later, just after getting started I tensed up and couldn?t hold back I came! That was it I was done and all I heard was ?You?re kidding, you?re not done already are you?? And the room filled with laughter again! Trina said ?All you did was make me a mess!? I gave her the hand towel and she wiped herself clean. She finished with saying ?It took me longer to clean up your mess then it did for you to make it!?
Hans came over to the bed fully dressed ready to leave still chuckling leaned down and passionately kiss Tina goodbye for a good five minutes rubbing her bare tits the entire time. I could tell Hans was sending us both a message with his kiss, Hans was re-instilling his superiority over me.
I got the message and I know Tina did to; ?57 seconds? was what she said when their lips parted and he thanked her for the great time, he looked over at me and said ?Keep in touch? turned and walked out the door. I knew it right then I?m now a BBC cuckold, I knew she was changed forever and would soon crave Big Black Cock and would willingly seek it out. I also knew that the feeling of humiliation Tina just gave me really turned me on and I just got to explore that sensation a lot more. I remembered seeing something about locked up cucks and I knew I had my mission! I had to get Tina to lock up my pecker as she taking her next BBC?more to come.. Needless to say I am back on Cuckold Place