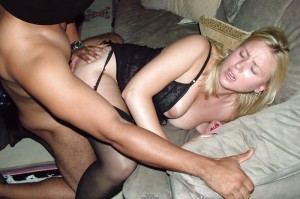 My wife and I got married two weeks after she graduated high school. L is a real cutie, 5 foot 4 and 100 pounds, she has 34 B tits and the best legs I have seen on a woman. I'm a leg man and thats what first attracted me to her. She is also blue eyed and blonde. Any way we got married in 1977 , back then there wasn't any video cameras , at best we had 8mm movies.
I bought a few "porno" films and we would catch a buzz and watch them together. I would sometimes make a comment about how big the actors dick was , or how hard he was fucking his costar. My wife was watching and she did get wet but she never shared in my commnets.
On night after we had fucked and showered we where laying in the den on the couch watching TV , I had my head in her lap. Out of the blue I asked her if she ever thought of fucking another guy. Being the "good wife" she said NO, I could never do that. I said I think it would be sexy, her look made me drop the subject.
Over the next few months when we would get all relaxed and watch a film I'd bring it up again, She never came around, or so I thought.
She was expecting our son and at 6 months she was kinna big, We couldn't have sex due to it hurt her ,so I felt sorry for her and booked a trip to the Tennessee mountians to get away and have some fun. We did all the fun things a 6 month pregnant woman could do. We loaded up and started for home. On the ride home I told her I was horney as HELL and need some releaf , she said why don't you masterbate?
I said even though it's dark , I'm driving and I couldn't get off with out something to help me. Oh yeah she said and pulled off her sirt and pulled the cups of her bra down under her tits. The 34 B's where getting bigger because of the pregnancy , and the nipples where darker. I said that might help , and pulled out my dick and started working on it. After 30 minutes I was still soft due to I couldn't keep my eyes on the road , or on the tits long enough.
I said this isn't going to work, I'm going to stop, she felt bad for me and said if I tell you a story would that help?
I sat there holding on to my soft little buddy. I looked over and what kind of story? She said it's the kind that will make you come ,guarateed. Oh yeah ? Lets her it, she said start jerking off. I started rubbing and she started out telling me about the time I worked at my shop till 1am right after we where married.
I said yeah why? She told me a buddy of mine ( I'll call him Keith ) came by looking for me. She said she walked out on the portch to let him know I wasn't there, it's was kind of cool and as they talked she would shiver ever so often. She said Keith pulled her to him and hugged her , he said to keep her warm. Well he must have liked the little shorts and t-shirt with no bra look because she she she could feel a hard on on his leg. She said that is a nice sized hard on you have , Keith said you want to see it? They went in the house and that was the first time she fucked another guy.
I was pounding away at my now ridgid dick. I said is that the only time you two fucked? She said no they had been doing it every Wednesday night that I went out with my buddy. Right then I got this thought. And without thinking I said are you sure that baby is mine? I know it was STUPID, well she started crying and said yes it's your I know for a fact. Keith had always wore a condom. I got her calmed down and asked for her to keep talking I loved what I was hearing. She told me she had continued fucking Keith even after she had cut me off. I asked her why and she told me that much fucking hurt and since his dick was a lot bigger than mine she picked him to keep fucking. This was the first time she had ever "put me down" and I shot off when she did it.
When we got home and unpacked I told her I wanted to fuck.
She said no. I begged her, but she said Keith was coming over tomorrow while I was at work and she wanted to be clean for him and it was to late to take a shower.
I couldn't rest all night and all next day at work all I could think of was her and him fucking in my bed!
I closed up a tad early and sent my guys home so I could haul ass home. When I got home supper was ready and everything looked normal. I said to my wife as I headed into the kitchen I'm glad supper is ready I'm hungry. I really wanted to say TELL ME ALL ABOUT IT!! But I played it cool. After eatting I said I need a shower and got up and started down the hall to the bathroom. I started to close the door but my wife was in the door way, I asked her if she needed to use the restroom? She said no I need a shower too. She started pulling off her cloths, that big pregnant belly sticking out hid her womanhood.
I turned on the hot water and we got in the shower, FIRST thing she did was wash herself down there. I acted as if I didn't notice. With my back to her ( the only way I could do this ) I asked did Keith come by today? She said yeah he had just left about 10 minutes before you got home. I turned around and said well if he was that late getting over here you could have gotten a shower this morning and I could have got some pussy last night. I was almost pissed! She said who said he was late? I couldn't beleave it ..I said he spent the whole day over here? She said yeah why? I spouted off with "what could you have done for 10 hours "? She said what do you think we did? We fucked. For ten hours, I said She said don't be silly I had to get supper started so we stopped or a little bit.
I didn't know what I was right then, pissed ( well a little ) horney ( well alot ) and even sad. So I said well is it to much to ask for some tonight? She told me NO, her pussy was sore and she wasn't doing anything but going to bed. That's when I started thinking what have I done? I didn't know it way back then but I what I had done was cuckold myself.
After our son was born , I was like any new father..I couldn't wait for that thing to heal so I could get some. Hell after all I hadn't even seen her pussy for just over five months. One night in bed I asked if she was feeling well enough for a little sex? She said yeah I know it's OK to fuck now. I said how do you know? She said she had gone over to Keith's house today while his wife was at work and they had fucked a few times.
Damn it…I thought, I wanted to get that first pussy after the baby was born. Well I crawled on her and slid my dick in, oh no ,eather it was the baby or Keith's bigger dick, but that tight little pussy I loved was gone! She even said something, are you OK she asked? I said yeah why? She said I can't feel you at all. Why are you so wet I asked , are you that horney? With an almost laugh she said no dummy, Keith went bare back and I didn't clean up. I said so I'm in his stuff? She said you sure are, how do you like it? Just then I blew a wad. It was a mixture of the first time in 5 months and hearing her say that.
I have rambled on , but this was how it started. From then on Keith always went bare back and I learned about "Creamy pies". On some nights when he could get away from his wife they would go out and fuck. I always tried to be awake when she got home but the first time I wasn't awake she got naked and sat on my face with her sloppy pussy. That was the first time I tasted cum…it wasn't that bad. So on the nights she did go out I would act and rest when she came in so I could eat her sloppy pie. They carried on for 3 years then he just stopped coming by. It was almost a year before she got some stange, but she made up for it at her birthday party. Thats another story and another time.