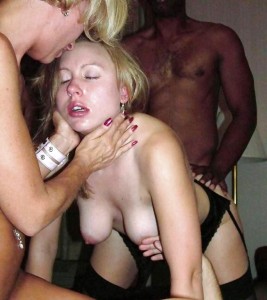 My wife and I had a few multi-partner sexual experiences before we married.  I guess at the time we never thought we would end up getting married.  We both were just having a lot of fun.  This story is about the first time I shared her with anyone.
We had been going out for about a year when it first happened.  We were asking each other about our sexual history.  She asked me if I had ever had a three some.  I told that I was involved in a few of them with my cousin Joe and my friend Albert.  They liked to show how they could get a girl to do anything for them, even have sex with us.  She wanted me to go into details and tell her all that happened.  I told her about on girl in particular.  My friend Albert had a girlfriend that we would share often.  We would go out to a bar or club then come back to my house and fuck her all night.  On one occasion my cousin Joe was with us and he joined in making it a four some.  I told her that we had taken pictures of the orgy and she wanted to see them.  I told her that my cousin Joe kept the pictures and she was disappointed.  I could tell that she was getting hot as I described everything that happened.  I began to rub her pussy and she was wet.  We had great sex that night.
Afterwards, as we lay in bed I asked her how she felt about having sex with someone else.  She said that it excited her but she did not want to risk ruining our relationship and did not want my friends to think she was a slut.  I assured her that it would not damage our relationship and that my friends would only like her more if she did it.  After asking if I was sure several times she finally agreed to do it.  I told her that next weekend we would go out to a club and come back home after to gang bang her.
The following week I told my cousin about my plan.  I told him that Brenda was ready to get gang banged.  He said that it was about time I got some pussy to share with the boys.  Joe and Albert had both gotten a girl to let us fuck her and now it was my turn. I told him that we were going out to the club on Friday and we would take her back to my place as usual.  I also told him that I was inviting Albert so he could get some too.
The weekend finally came and I went to pick up Brenda first.  She had on a short black skirt and a tight dark red blouse that showed lots of cleavage.  Since we have been married she has put on a little weight but back then she was even hotter.  Brenda was about 5', short blonde hair, 100lbs, slim waist and a great ass.  She said she dressed sexy so that hopefully my friends would want her.  I assured her that they would defiantly want her.  We then went to get Joe and Albert.  We arrived at the club around 11 o' clock.  Joe and Albert told me how hot Brenda looked and how they could not wait to get her back to my place.  I told them to be patient and let's just have some fun for now.  We all danced with Brenda for several hours.  The club played lots of hip hop music and we would surround Brenda and rub our crotches into her while we danced.  It was getting late and the club was getting ready to close so we decided to leave.
We went back to my house to have some more drinks and get high.  We all grabbed a drink and went to the living room.  Brenda sat between Joe and me on the couch.  Albert was sitting at a table behind us rolling a joint.  As we watched TV, I was rubbing Brenda's thigh and moving up to her pussy.  Joe was pretending that he was not looking at us so pulled her thong to the side and began to finger Brenda's pussy.  She was already wet and my finger slid right in.  She threw her head back and closed her eyes.  We now had Joe's attention.  I reached for one of her breast and he grabbed the other.  She was getting wetter as I fingered her pussy and reached into our laps and rubbed our cocks.  Joe quickly pulled out his cock before I could even get my zipper down.  Brenda began to stroke Joe's cock while I stood to call Albert.  When I turned to call him, he was already taking off his pants.  I stared to do the same.  Brenda had dropped to her knees in front of Joe and was licking his 8 inch cock all over.  Albert walked up to Brenda with his 9 inch cock sticking straight out in front of him.  She saw him and turned to take his cock in her mouth.  Joe stood up and we surrounded Brenda with our dicks in her face.  She was sucking Albert while stroking Joe and myself.  She would go from cock to cock sucking while stroking the other two with her free hands.  She sucked us all for about 10 minutes.  She would swallow as much as she could while we grabbed her head and fucked her face.  Joe was the first to fuck her.  He pulled off her skirt and bent her over on the couch.
Albert sat in front of her and she continued to suck him off.  Joe pulled Brenda's thong to the side and slid his cock into her pussy in one thrust.  He fucked her hard for about ten minutes while she sucked Albert's cock.  She moaning around Albert's cock as Joe pounded her pussy.  I was sitting on a chair enjoying the site of my girlfriend fucking and sucking my cousin and Albert.  Suddenly she began to moan even louder.  I did not notice it but Joe trying to shove his thick prick into her in the ass.  I had never done this with her before so it surprised me that she let my cousin take her virgin asshole.  It took him a few minutes but he soon had the same rhythm going on her ass as he did with her pussy.  Joe then told Albert to let her sit on his cock.  Albert sat on the couch and she mounted him.  Albert was bigger than both of us but his cock slid right into her pussy with no trouble.  Joe went behind her and stuck his cock back in her ass.  She was moaning loudly as they stuffed her pussy and ass at the same time.  I stood in front of her and shoved my dick into her mouth.  Joe was the first to pump his load into her ass.  He held her hips tightly and pushed his cock all the way in her.  He held it there for a few minutes while Albert continued to fuck her pussy slowly.  Finally Joe pulled out and gobs of cum ran out of her ass and onto the couch.  Albert quickly got up and took her doggy style.  He fucked her pussy hard for over 20 minutes.  I continued to have her suck my cock but I could not hold out that long and shot my load into her mouth.  I took a seat and watched as my friend continued to fuck my girlfriend.  Finally Albert pulled his cock out of Brenda and stood in front of her.  He aimed his cock at her face and shot his load all over her.  I gave her a towel to clean up while we smoked that joint.
We fucked her again a couple more times each that night.  We also had a few more gang bangs with my cousin and my friend.  We also had had a few with some of her friends as well.