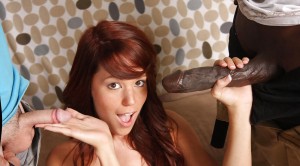 Let me start by telling you about my wife. Her name is Irene, she is five   foot 2", dark eyes and long auburn hair down to the small of her back.  36 C tits   that looked huge against her small frame and they that turned heads every where   we went.
We had a great sex life, or at least I thought we did, but it had become routine and the excitement   was no longer there.
One night while having sex I ask her what we could do to   put some excitement back in to your love life. She said no and I asked her  if  she ever had any fantasies. She told me no but her girl friend had got her  hot  and curious by telling her some of the things she and her husband had  been  doing, and I said like what? She told me that they were swingers and  belonged to  a swingers club. I said you are curious about another men fucking you?  She said  she didn't know why but the thought of it made her wet and horny as  hell. I said  can I tell you something without you getting pissed. She said  yes and I told her  that I have had a fantasy for a long time about watching her  fuck with another  man. She said  would it bother you watching me, and I told  her no, that I  thought it would be exciting as hell. I got brave and asked  her if she wanted to  try it. She got so turned on and excited that she was  fucking like I had never  seen her before and was saying yes over and over. I  wanted to see how excited I  could get her and told her I want to hear you moan  and to see your face and  body covered with cum. She was still saying yes and said just hearing you  talk  about loaning me to other men makes me wet. I said ok talk to Judy (that was her girl friends name), and see if we can   join the club and set it up.
The next night while we were fucking, she was so   excited and told me that we were in and to be ready Friday night that Judy and   her husband would pick us up.
Friday night came around quickly and   when  Judy  and her husband picked us up my wife introduced them to me, and  on the way  there I noted Judy's husbands eyes were glued on my wife's  tits.
We where  greeted at the door and asked to put our car keys in a  bowl. We entered a room  full of couples and just standing around drinking and  talking, Judy brought   us a drink introduced us to the group. After a while, the host said it' s time and we were taken to a large room with  mattresses lined around the  walls. The host was standing in the middle shaking  the keys around in the  bowl and said who is first. One of the girls reached in  the bowl and pull out a  set of keys. It seemed  the owner of the keys where  the one you were  partnered with. A man walked over and claimed his keys. He and his partner had to strip in  front of everyone  and then took their place in front of  one of the mattresses.
When it came to my wife's turn she reached in and pulled  out a set of keys and  held them up. Oh my god I thought, this is her first time  with another man and a  big black guy walked out and claimed his keys. Without  hesitation my wife and  the guy striped. Before they got to their mattress he had  his hand on her  tits and she looked shocked to see how long and thick his black  cock was.  I was also shocked how much bigger he was than me. Damn he had a big dick.
A  cute little red head pull my keys out and we striped and took  our place in front  of our  mattress.  When the bowl as empty  the  host said let the action  begin and have fun. I am glad the little red head  took charge and went down on  my cock because I couldn't  take my eyes off  what was happening to my wife.
He  had his big black  finger  in her  pussy working on it hard and pulling and  twisting her hard nipples. A couple of  minutes later he shoved his cock into  my wife's pouting lips. I heard my wife  gag as he  fucked her mouth with all  of his cock.  I was afraid he was  hurting her, but she was moaning around his  cock and grinding her pussy on   his finger.
I was so hard and excited  watching my wife that I blew my load in  the little red heads mouth. She swallowed  and kept sucking on my still hard cock. Then  she impaled herself on me and  started fucking me like a wild  woman.  The black guy had now removed his cock from my  wife's mouth and was  fucking her big tits. Soon my slut wife had a load of  cum on he face, in her  mouth as well as her tits. He now went down on her and  was eating her out. She  was just laying there moaning and licking the cum  from around her mouth and  rubbing it all over her big tits and sucking her  fingers. I then heard her scream  oh hell  I am Cumming! He kept sucking her juices  and she was going  crazy.
He now got up between her legs and drove his huge  cock in to her  wet pussy with one stroke. She let out a scream that turned heads  her way.
The  little red head finally came and fell limp on me. I started  playing with her tits  and nipples while I watched my wife. The Black man was  fucking her so hard and  deep her while body was shaking so hard  I thought her big  tits were going  the fly off  her chest. My wife was screaming so loud for  him to fuck her  harder that she had every one's attention.
I watched  my wife become a  black cock whore her first time with another man.
When we  got home I asked  her if she was alright and she smiled and said she was looking  forward to the  next club meeting.
I guess the reason she is a BCW is because he has a much bigger dick….