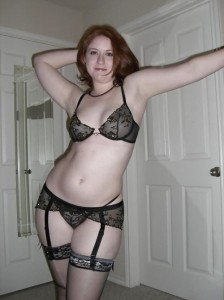 We are a mature married white couple.  I am 55 and my wife Connie is 34, but Connie could easily pass for being in her 20′s.  She is just your average woman next door.  She is 5'3′ tall with some extra padding on her bones, but I love it just the same.  Her breast are 36 DD and if you like a good ass to grab she has got that to.  Connie and I have occasionally had the fantasy of another person joining us in bed. During our bedroom sex session's and heat of passion, I would ask her to imagine a third person sucking on her breast kissing and gently pulling and twisting her nipples.  To this image she lets out a passionate moan of yes.  I ask her who she is imagining doing this to her?  Her reply is often times another woman, and when I ask who this woman is, she moans a stranger, someone she does not know.  The added kicker to her fantasy is the woman is usually always a voluptuous black woman.  Someone who looks like Pam Grier, for those of you who know who foxy Jackie Brown is.  Connie's bi-sexual fantasy adds to her passion and always brings her to a screaming orgasm.  Now I enjoy my wife's choice of fantasy and get off on it as well.  However, I too have my fantasy, and during sex I will comment that the third person in our fantasy is a black man with a very black long thick hunk of meat.  Connie moans in her approval of this as well and comes to another powerful body shaking orgasm.
Over this past 4th of July weekend we were invited to a cook out at a friends house.  My friends, the host and hostess, are white and he is in the military while his wife is a professor at the local black college (believe it, it's true and that's another story).  There was a good mix of black and white people attending the pool party.  My wife had on a pair of white shorts, and a blouse top, but shear enough to see she had her red bikini on underneath.  It was a pool party and most all the women were dressed in a similar manner.  At one point I was engaged in conversation with Thomas, a 45 year old, 5'10 inch maybe 155 pound, dark skinned Black man.  He is also a college professor at the local black college.  I guess the alcohol was taking its affect and we began commenting on how the women were dressed and how good they looked.  Curiosity got to me and I ask Thomas if he had ever made love to a white woman and he said he had on a couple of occasions.  I ask him if there was a difference in his opinion between black women and white women in the sexual department.  He said he much preferred white women because of their lusty passion during sex.  Perhaps he was sensing my interest so he ask me which woman was my wife.  I pointed her out standing off by the pool chatting with other men and women.  Catching my wife's eye, I tipped my drink to her and she waived back in reply.  Thomas complimented on her physical attributes to which I thanked him.  Eventually my wife walked over to join us in conversation so I could introduce them to each other.  They shook hands and I thought Thomas held her hand a little longer than usual.  Eventually I had to freshen my drink, I ask if they needed another as well.  So I went off to the set up bar and waited for our new order of drinks.  I could see Connie and Thomas chatting across the way and noticed that as they talked Thomas would touch Connie on the arm and his touch would linger for just a moment longer each time.  At one time during a laughing moment between them he placed his hand on her hip.  Connie didn't back off and I thought she must really be feeling her drinks.  A couple glasses of wine and she can really be relaxed and more tolerant than normal.   I returned with their drinks, and started to join back in the conversation when I got a cell phone call so I had to step away to a more quiet place to talk.  When I hung up I looked around for Connie but could not find her around the pool area.  I thought she likely went in the house to take care of some personal business.  As I waited on her return I also noticed that Thomas was not in sight.  I'm not sure what I was thinking, but I decided to walk through the house to find my wife.  I didn't find her in the kitchen and the bathrooms were both unoccupied.  The bedroom doors were all open, so I decided to check the basement.  Again I don't know why, but I moved slowly and quietly, I guess my sub conscious mind was thinking faster than I was.  When I got to the bottom of the stairs I saw no one, but quietly moved around the finished basement checking rooms and listening.  Then I saw them in another room off to the side.  From my vantage point I could easily them both.  Connie and Thomas were in what I would call a serious lip lock. I thought, how much has she had to drink?   I watched as they kissed and sucked on each others lips.  It was obvious that they were also slipping each other the tongue.  At one time they slightly backed away from each other and I could see that Connie's blouse was open revealing her ample tits.  I assumed Thomas had taken the liberty to feel Connie's melons.  As he pulled her back to him to french kiss some more his black hands slipped down to cup her ass.  I have to admit that the sight of his blackness rubbing and cupping her ass against the white shorts made my dick respond.  I could see Connie pressing her hips into Thomas as they kissed and she began to rub her hands on him as well.  My heart was pounding, what was going to happen here in this basement at my friends house between my white middle aged wife and this black college athletic looking professor?  My brain went numb as all the blood was rushing from my brain to my dick!  I loved what I was seeing.  Now to my knowledge, and I'm pretty sure of this, my wife has never been with another man.  Her strict religious values that she was raised with wouldn't let her even consider another man since our marriage 35 years ago, but there she was kissing this Black man full on his lips!  I thought this dude must have some great lines and moves to get my wife in the basement so fast or she is just plain fucking buzzed!  There was a loud distracting noise from upstairs and they quickly pulled apart from each other.  I could see a good bulge working inside Thomas's baggy bathing shorts and Connie looking down at his crotch said they had better get back out side before I came looking for her.  Thomas told Connie she was a very hot woman and I was a lucky man, I silently agreed.  I quickly and quietly went back up the stairs and out to the pool.  I watched as Connie walked out, spotted me, and walked in my direction.     A  few minutes later Thomas came out, I thought I could see a "little" boner he had gotten from kissing and feeling up Connie.  I ask Connie where she had been, and she replied helping out the hostess in the kitchen.  Connie eventually went off to mingle with others and swim in the pool.  I worked my way back to Thomas and finally got him one on one.  I ask him if he enjoyed himself.  He said yes, he was having a good time and glad he came to the party.  I replied no, I mean when you were in the basement with Connie.  I told him I saw them together kissing each other.  He looked at me hard for a frozen moment.  After realizing I was not going to flip out on him, He smiled and said she is very good kisser.  I could not believe I was standing there with this Black man discussing the sexual-ness of my wife, and whom I had just met an hour ago!  I guess you could say I started thinking with my other head then.  I ask Thomas if he was up to giving Connie the night of her life.  He said what do you have in mind.  I told him which house was ours on the street and tonight around 10 PM I would meet him at our back deck door to quietly slip him into our house.  Thomas agreed to my plan.  The rest of the pool party took forever, but I enjoyed the sights of Connie and thinking what was going to happen later.   That evening as we were preparing for bed Connie went to take a shower, I did my usual security check of doors and windows, and at the agreed upon time there was Thomas on the deck.  When he came in I told him my plan was to get Connie sexed-up, and he should quietly wait in the hall outside our bedroom.  I would motion for him to come in and join us when I thought she was hot and ready.  I was already laying on the bed in anticipation of the whole thing, when Connie finished her shower and stepped from the bathroom. I knew instantly she was ready for sex.  She had put on her black thigh-high stockings with garter belt, black bikini panties, a black lingerie bra, and black stiletto heals.  Clue numero uno that she was in the black fantasy mood.  As we layed down on the bed we kissed and rubbed each other in all the right places and I ask her if she had a good time at the pool party.  She said yes it was fun.  I told her I had noticed her talking with Thomas by the pool and that I had seen him touch her arm a few times and even thought he had touched her on her hip.  She said yes he had, and even though it caught her by surprise she had found it to be thrilling.  She said nothing more about it, but I noticed she had a smile on her face and a look in her eye's that said she was thinking more than what she was saying.  I began by removing Connie's bra and started kissing her breast, sucking and biting on her nipples, I rubbed my hand down her body and played between her thighs.  This really arouses her and makes her hotter and wetter. Connie closed her eyes and began to moan.  I
could see Thomas standing just out of the door way in the dark hall.  I motioned for him to quietly come in the bedroom.  When Thomas stepped in I was awe struck, he was already naked. Thomas is a slim bodied man, and his color is coal black, his penis was protruding out from his body.  Here was a skinny ass dude with a big long penis.  I would guess 9 inches and thick as well.  For an instance I thought how is Connie going to react to Thomas surprise appearance and secondly the size of his cock?  I continued to suck and gently bite Connie's nipple.  I slipped my hand under her black panties to rub her clit and insert my finger into her pussy.  Connie moaned with even more pleasure.  Thomas silently walked to the edge of the bed, he bent over and also began to suck on Connie's ample bosomed and erect available nipple.  I watched Thomas slide his black hand up and down Connie's body to her inner thigh. It was a hot sight to behold, as I continued to work on Connie's other breast as well.  At the moment of Thomas's touch Connie gasped with a body flinch and opened her eyes.  I could see the startled look in her eyes, and she started to panic.  I told her to relax everything is okay, relax and enjoy what was about to happen.  I could also see that she immediately recognized that it was Thomas sucking on her other breast.  I told her to relax again and to my surprise she did.  Connie was quiet for a moment as I sucked on her left breast and Thomas sucked on the other.  Slowly Connie began to respond again moaning with heavy breathing and, with even more passionate than before.  I could tell Commie was really starting to like the feeling running through her body.  She began to talk, which she doesn't do that often, saying yes oh yes I love my tits sucked and nipples pinched.  She reopened her legs allowing both our hand to roam over her thighs.  I stopped for a moment breast sucking and biting so I could remove her panties.  As I did, this allowed Thomas to have his way with her pussy.  He began to rub up and down her crack of bush.  This caused her to raise her hips up off the bed allowing Thomas to totally cover her clitoris and insert his finger in her pussy.  Connie's response made me hot as hell, she turned her head towards Thomas, and he moved from sucking her nipple to kissing Connie full on her lips and mouth.  I could see that it was an open mouth kiss, they were swapping spit and tongue as they explored each others mouth again for the second time that day.  I continued to orally work on Connie's breast and nipple, and to work my way down her body to her pussy.  When I did, Thomas stood up to move close to Connie's mouth.  This was the moment Connie was able to get her first look at the cock meat that Thomas had hanging from his body.  Connie's eyes went wide with amazement as she whispered to herself, oh my god!  With only the slightest hesitation Connie reached out and circled her white hand around the coal black cock in front of her and began to jerk the big cock slowly as if she was gauging the feel, the length, the width and just the plain meat of this black cock in her hand.  At this point I slowly slipped away off the bed to sit on a near by chair in the corner our room.  Thomas deliberately and slowly positioned himself closer to Connie's mouth as Connie continued to slowly jerk this big black cock.  Instinctively, without realizing I'm sure, Connie's mouth began to open in anticipation of sucking this black cock.  To my enjoyment I sat in the chair as Thomas inserted the head of his cock into Connie's open mouth.  Connie eagerly accepted it .  He slowly began a slow rhythmic pumping motion in her mouth allow Connie time to get used to the size of his cock.  Now I'm of average size and when Connie sucks my cock she has difficulty taking my cock all in, in fact she can't.  She has a quick gag reflex when it comes to her cock sucking skills, but I always appreciate her effort.  As I watched Connie slowly take Thomas's black meat in her mouth it was getting wetter by Connie's slurping, and amazingly Connie was taking more of his cock deeper into her mouth.  As if on cue, Connie started making that gagging sound, you know the one when the woman has way to much cock in her throat.  I loved the sight and sound of it.  Like I said, Thomas was around nine inches and Connie must have had over half of that long dark thick black cock in her mouth and down her throat.   After a few minutes more of her sucking and gagging on this big black cock Thomas got on the bed and laid on his back.  Connie climbed on top of him in the cowgirl fashion to slide down on his pole.  I could see her reach her hand down around the black shaft and position the head just right at the opening of her wet pussy.  As she mounted and lowered herself down on to his thick cock Connie began to moan.  I ask Connie if she liked the feeling of that big black cock filling her pussy.  She said yes, it felt so big, it was fantastic.  Thomas was playing with Connie's tits as they swung in his face, I could see he was sucking on her nipples first one than the other.  This really helped Connie to get wetter and her pussy was making a good slurping sound from the in and out motion she was generating from riding Thomas big cock.  Thomas reached both hands around Connie's ass and squeezed her big white ass checks and gave her a good firm smack on the ass.  His black hands squeezing on her white ass was a hot sight to see.  Pretty soon he reached far enough around Connie's ass and slipped his index finger into her ass hole as she rode his cock.  Connie took a quick deep breath and continued to ride Thomas harder.  Her ass pumped up in the air faster and faster as she slid her pussy up and down his wet pole.  What a sight to behold.  I started to slowly play with my own cock as I watched my wife fucking this skinny ass, big cock Blackman.   Connie was really getting into it and she leaned closer to Thomas as they kissed each other on the lips, sucking each others tongue and lightly biting each on their full lips.  I could see Thomas's balls tighten as Connie continued riding his cock faster.  Connie was moaning more, uttering yes, yes in a sexual ecstasy of pleasure.  Connie sat up straighter and really began to wiggle and move her hips on Thomas cock.  It was obvious Connie was cumming and letting her cunt juices flow all over his cock and balls.  Connie let out a few loud YES! YES! and then a scream of joy.  Connie stopped for a few moments to recover herself, then continued to slowly wiggle her hips and ass while  grinding her pussy on Thomas's cock.  I could hear Thomas and her talking, but I could not make out what they were saying.     Connie than climbed off Thomas and went down to take his cock in her hand as she began to suck on his cock.  I sat there in amazement, I never really thought this night would come.  It was always a fantasy for us.  Connie was doing her best to suck as much of his cock meat into her mouth.  She was making slurping noises and again trying to gobble as much of his cock meat as she could into her mouth.  Connie was deep throating this fucking cock, spitting and slobbering on it like it was her first and last time.  Her up and down head motion allowed her to take the whole fucking thing.  I watched as she carefully and slowly slid her mouth down and pushed her nose against his black stomach. Thomas was telling her how good it felt and he placed his hand on the back of Connie's head to give her the forceful push she needed to suck him deeper down her throat.  Connie would suck in an up and down motion and after a few strokes she had to come up for air.  When she did this she would continue to jerk Thomas's cock, but then she would move down to lick his balls as well.  Connie loves to take one of my balls in her mouth and suck on them.  I knew that was what she was trying to do to Thomas, but his balls were just to big for her to take into her mouth.  She would then go back to sucking his cock some more.  Connie is left handed, and it was hot to see my wife suck
ing and jerking on this big black cock with her wedding band exposed.  Stroking that black member as if to say I am a married white woman sucking on this big black cock, don't you love it honey?     My cock was so full of blood I knew I was close to shooting all over the carpet.  I stood up and walked to the bed and told Connie she had to suck my cock.  She stopped sucking Thomas and eagerly moved over to take my cock in her mouth.  All the while continuing her jerking motion on Thomas's cock.  Thomas, in the mean time, began to finger fuck Connie's pussy.  She moved her ass to a better position so he had easier access to her pussy, and she could wrap her mouth around my cock.  I noticed that with my cock in her mouth, Connie wasn't makeing her gagging noise.  I guess Thomas's big cock broke her throat cherry.  After a couple of deep tight sucking motions by Connie, I blew my wad into her mouth.  Connie is a swallower, she has never been a splitter.  She kept sucking me until my cock stopped pulsating in her mouth.  She swallowed my whole load which felt like a giant eruption from the bottom of my balls.  I stepped back and sat in the chair and watched as Connie went back to sucking Thomas cock and jerking with her wedding ring hand.  In a few moments Thomas began to moan and lifting his hips pumping her mouth ever so slightly.  I knew he was about to cum and was going to empty his cum into Connie's mouth as well.  Even though Connie gags on my cock, she still gives good head.  Connie was now taking almost all of his cock in her mouth and down her throat.  Connie was mumbling encouragement to Thomas in between strokes.  Coming up for air, she would say, come on lover shoot your cum in my mouth.  I want to taste your cum in my mouth,  My wife calling this black stranger lover made me feel energized.  Her sucking and jerking caused Thomas to let out a loud oh yes, yes baby suck it suck here it cum's.  With that I could tell by Connie's mouth and head movement Thomas was shooting his load of cum into the back of Connie's mouth and down her throat.  I had to moan with pleasure to myself as I witnessed Connie sucking this other mans cock.  Then it happened, Connie gagged on Thomas's big black cock shooting his load into her mouth, and when she gagged, some of his cum came out of her mouth and oozed down his shaft and covered Connie's hand, wedding ring and all.  My cock instantly got hard again at the sight.  Connie continued to slurp and suck the big black cock she had in her hand as Thomas lay there relaxing on the bed.  I sat there in the chair stroking myself again.     Thomas moved Connie around up on her hands and knees.  I heard Connie say yes do me doggie style!  Thomas positioned himself so I had a good view.  Even though he had just cum in her mouth, his cock still stood out at a semi erect ready for battle angle.  He positioned the head of his cock at Connie's pussy and began to slowly work the head in.  Connie moaned and arched her back, saying easy your so big.  Her pussy must have been pretty wet from Thomas fingering earlier, because within a few pumps he was stroking her pussy pretty good.  Connie was moaning and howling at the length of his penetration.  Sometimes saying how fucking big he is, to actually moaning in painful discomfort.  It was fucking hot to me to watch regardless.  His black hands on her hips as he pumped his long thick shaft into her pussy was the sight I had imagined to myself many times as I beat off in the shower.  When Thomas wasn't pumping Connie's pussy, she was backing her ass into him.  The contrast of her white ass against is flat dark black stomach was fucking awesome.  I moved my self over to stand in front of Connie and I kissed her on the mouth.  I ask her how it felt, and she replied so fucking good.  I told her I loved her and stuck my cock in her mouth.  She grabbed my cock and began to suck and jerk me as Thomas continued his deep fuck of Connie's wet pussy and placing his black hands on her hips as he pulled her back on his cock.  I shot another load of my cum into Connie's mouth.   I had never cum twice in one night before when having sex with Connie.     As I stepped back to my chair in the corner, Connie dropped her head down on the bed making her ass seemingly rise higher giving Thomas a bigger target.    I watched as Thomas stuck his left thumb in his mouth and sucked on it.  I thought odd, dude sucks his thumb while fucking.  To my amazement he then took his left hand and placed it above the crack of Connie's ass.  Thomas slid his thumb down between her ass cheeks until it met Connie's asshole.     Now I have only fucked Connie in the ass once, and she had to get very buzzed in order to let me fuck her ass.  Afterwards, she said she didn't like it and would never do it again.  I love her ass, it is a great looking ass, especially when she is wearing her tight jeans.  I'm always telling her about dudes who watch her walk past, and I can tell they are looking at her ass.  This seems to surprise her and she takes it as a compliment intend it to be hoping it turns her on.  My intent is to fuck her ass again someday.
Any ways, when Thomas slid his thumb down her between her ass cheeks to her asshole, she began to moan again telling him fuck me fuck me I'm yours.  I thought no way she is going to let him stick that big cock in her ass is she?  Thomas gently slid his thumb into her ass as he continued to pump her pussy.  Connie moaning and screamed louder, saying oh yes fuck my pussy with that big black cock, fuck my ass with your thumb.  I thought..Who is this woman and what did she do with my wife?!!!  I was glad we were home and not at a hotel where someone could hear the loudness of the pleasure she was receiving from his cock and thumb.
Thomas pulled his thumb from her ass and his cock from her pussy.  Connie let out whimper and Thomas immediately rolled her over on to her back.  Thomas positioned himself between her spread legs, he placed his arms under her legs at the knees, pushed her knees back almost crushing her tits, and thus lifting her ass off the bed.  His big black cock slid immediately into her hungry.  What a sight as he spread her pussy lips and had her in what seemed like such an awkward position for Connie to fuck.  Then I realized, Thomas was doing all the fucking, as Connie was urging him on through grunts of fuck me, fuck good, fuck me harder, fuck me!  Thomas was pumping his cock into Connie's pussy like a well oiled piston.  The sight of his black ass humping away, his black cock rapidly pumping in and out of her pussy, making that wet sucking sound a pussy can make when it really primed.  I took my eye from the sight of this reaming Connie pussy was receiving from a perfectly black stranger.  We hardly even knew this man, and yet his big powerful black cock was fucking my wife's wet white pussy, and she was loving it.  I saw the two of them passionately kissing each other.  It looked as if Thomas was trying to stick his long pink tongue down my wife's fucking throat at the same time he was pounding the fuck out of her pussy.  Connie was moaning in pleasure like I had never ever heard her do before.  I had never made her sound that way.  I was jealous, I was in awe.  She was getting fucked by this stranger big time and she was loving it.
As Thomas was fucking Connie, I was surprised when he spoke to me.  In his passion he ask me if he could come in Connie's pussy.  I was caught off guard, I hadn't thought about that.  Connie was at the age, where she wasn't going to get pregnant, but I said no he could not.  I wanted to see him spray a load of cum all over her face and tits.  Now I don't really think he listened to me, because Connie began to encourage him by saying yes cum in my pussy, cum in my pussy I want to feel your cock fill my pussy with your hot cum.  I want to feel you cum in my pussy!  She gave Thomas a real hard smack on his ass with her left hand.  This caused Thomas to call her a fucking cunt, and made Thomas pump her pussy even harder.  Hestill had Connie's legs up over his shoulders, pushed at such a fucking angle it was some sight to see, his skinny black ass  hammering away at her white ass pussy.  Thomas began to let out a groaning sound that grew louder as Connie continued give her black lover verbal instruction cum, cum in my pussy.  Fuck this white pussy, I love your big black cock fuck me…fuck me!  Connie slapped his ass again, and with a final quick jerk, Thomas slammed his hips forward and held…Connie let out a yelp and a squeal at the same time.     I watched as her white hands rub his dark black back, stroking down to his black ass, rubbing and squeezing his ass as he was filling her pussy with his cum.  They kissed each other on the lips and mumbled something to each other that made them both laugh.  I wondered what he said that would be so humorous between them?  I moved over to the bed as Thomas rolled off Connie, and his cock made a slurping plop sound as he pulled from her pussy.  I ask Connie how she felt.  She said wonderful, I never thought it would feel like this.  We laid there for awhile, the three of us.  Thomas got up to take a piss, it sounded like someone turned on a fucking fire hose.  I ask Connie if she was okay with what happen and she said yes.  Thomas then came back into the room and started putting his swim trunks and t-shirt back on. He said he had to go, his wife would be wondering where he was.  Connie and I just looked at Thomas and then at each other, we didn't say anything, but I'm sure we were thinking the same thing….is your wife bi-sexual?