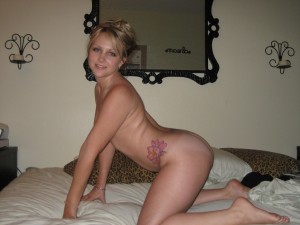 People had warned me when, at 37, I married my wife Amanda, 22, after a whirlwind three-month romance. They had said that Amanda was a party girl who liked the good times and was only marrying me for the money but I ignored them all. Even before we got married, I found out why.
I had met Amanda on the club scene, me being one of those desperate older single men, her being one of the hottest girls on the town. She was well known for being a real goer which was what attracted me to her.
It took me a long time to get her to agree to come out with me and that only seemed to be because of where we were going, the classiest restaurant in town. There was no doubt that Amanda was a good time girl – she did not work but always seemed to be out every night of the week. I thought I could get her to settle down but I was wrong.
During the quickfire courtship, Amanda occasionally allowed me to fuck her, but I was so excitable it would not last very long, even though she made me wear a condom.
I was over the moon when she agreed to marry me and decided to throw a lavish engagement party at the house, inviting some of the people I worked with – I didn't have many friends – and Amanda's friends.
At the party, I noticed one of the guys from the sales team at work, a black guy named Joe, chatting with Amanda and her friends. He seemed really interested in Amanda which got me worried as he had a real reputation with the ladies. But I paid it no heed as I was just over the moon to be marrying the girl of my dreams.
Later that night I had difficulty finding Amanda and was asking around for her. One of the secretaries from work, Clare, looked at me with a smirk when I asked her and indicated that she seemed about to give Joe a tour of the house.
My heart began beating faster and I passed another one of the women from work on the stairs on the way down from the toilet. I asked her if she had seen Amanda. She said no but there was an awful lot of noise coming from the bedroom.
I climbed the stairs filled with trepidation and yet, I can't explain it, felt my cock getting harder in my trousers. I stopped a few yards outside what would become our bedroom and heard Joe's voice telling someone to "take it, you fucking whore. Take all my hot spunk in your cunt."
I relaxed then knowing it could not possibly be Amanda as she always made me wear a condom but something made me stay there as I heard a zip being done up and someone walking towards the door. I got there just at the same time as Joe opened it. In the background I could see Amanda, bent over the railing at the bottom of the bed, still fully clothed but with her bodice unclipped round her pussy, and her tight black trousers round her knees, held up by her knee-high black leather boots.
She turned with eyes glazed at looked at me as Joe, the arrogant little stud, brushed past me with a smirk on his face. "What have you done, Amanda?" I asked, closing the door so we were alone. "What does it fucking look like? I've just been fucked by his magnificent black cock." I started to feel tears welling in my eyes and began to stammer about the marriage and our future. Amanda looked me squarely in the eye with no trace of remorse and told me that my cock was pathetic, I came too quickly and she needed to be satisfied by a real man with a decent sized cock.
I stood there speechless but simultaneously felt my cock hardening in my pants – I was actually getting off on the humiliation. I looked down at myself as if I could stifle the stiffness simply by looking at it. Amanda's eyes moved towards where mine were going.
"Oh my god, you fucking wimp! You're actually getting off on me being fucked by another man, aren't you?" I tried to say no, but the tent in my pants just became harder. "Don't lie you pencil dicked loser! Show me what a total fucking wimp you are now – kneel down behind me and suck his cum from my pussy!"
Obediently, I knelt down behind her as Amanda grabbed my head and thrust her gaping, cum filled hole back onto my mouth. "Lick it up, all of it. Eat every last drop of that real man's spunk!"
As I lapped away, Amanda continued to degrade me verbally, calling me a faggot and ordering me to wank myself off as I cleaned her. She checked to make sure I had done a good job by inserting two fingers into her cunt and then shoving them in my mouth.
Then, she turned around, pulled up her trousers and ordered me to wank off on her boots. I shot my load almost instantly as I began to yank my 4 inch cock. As the first jet spurt sprayed her boots, the bedroom door opened and I looked up through glazed eyes to see Clare, the secretary from work. A huge grin broke out on her face as she said she had heard raised voices and wanted to check everything was OK. Amanda told her it would be fine as soon as I had licked up my cum. Clare laughed out loud as she closed the door.
"Lick up your worthless load you little cocked wanker – you're the only person who's ever going to eat your cum!" Amanda teased.
When I had finished, Amanda told me that this was the way things would be from now on.- her fucking anyone one she wanted whilst I would have to be content with wanking off my little cock and being her cuckold clean-up bitch.
She also told me that she wanted the keys for the flat in town that work used to put up guests as she was taking Joe there that night so he could fuck her brains out. I pleaded with her that it was our engagement party and people would notice. "Too bad, they'll just know what a fucking wimp you are then won't they? A little cuckold bitch, under my thumb."
When we went back to the party, Clare was chatting and laughing loudly with Joe, obviously filling him in on what Amanda had made me do. Amanda left with Joe for the flat about half an hour later and I had to fend questions off from colleagues about where Amanda had gone, making up some story about Joe not being well and Amanda driving him home but when she hadn't returned an hour later it was obvious to everyone what had happened. Clare kept teasing me by passing by me every now and again and whispering "cumslut" in my ear as she went past, leaving me trying to stifle my hard-on.
Amanda didn't come home till nearly three the next afternoon and immediately had me eating out her cum filled pussy and reaming her spunk filled asshole. Joe had given her the perfect fucking and she told me she needed the flat every Monday when Joe was in town for the weekly sales briefing so she could get more of his big black cock. When I tried to put a stop to it by pretending that the flat was being used, she simply told me to inform Joe that he could stay at our house and she would force me into the spare room.
Joe wasn't the only guy she fucked on a regular basis and she also continued to have casual sex on her girls nights out, often not returning till four or five in the morning. Eventually, she made me pass up on a promotion so Joe could get it. That enabled him to give up the sales job on the road and a few weeks later she moved in with him for good. Amanda filed for divorce and took half of everything. She even humiliatingly insisted that part of the settlement included a 'slut allowance' for her to purchase sexy clothes to wear around Joe. In return for that I am allowed to visit her once a month and wank off on her boots!